Compliance Summary
Compliance Summary Tool

Transportation Modes

Service Functions

Regulations

All Topics

Please note: This site was developed to help you understand the regulations. Consult the references provided for links to the full text of the regulations.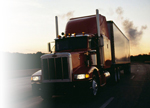 TERC is intended to help you find information on the environmental regulations that affect the transportation sector. The site includes overviews of the regulations, tips on how to comply, best practice solutions that can help the environment while saving you money, and links to other resources.
You can search for topics relating to specific transportation modes (road, rail, air, and water), or by other categories. Select the categories of interest to you from the menu bar at the left, or select "All Topics" for a list of all of the topics (both current and future) covered on the site.
Currently the majority of topics impacting road and water transportation are complete. The road portion was developed in cooperation with the American Trucking Associations (ATA) and the U.S. Environmental Protection Agency (EPA). While many common topics cover the other transportation modes (rail and air), additional unique topics for these industries are still being developed (see Future Topics list). They are expected to be available by mid-2013.
This website was developed and is maintained by the National Center for Manufacturing Sciences. Funding for this project has been provided by EPA under the National Compliance Assistance Centers program. For more information, or to pass along suggestions, please contact: Bill Chenevert, Administrative Director, wchenevert@ncms.org.

Compliance Summary Tool for Water. TERC Compliance Summaries provide customized compliance assistance reports based on your specific location and type of operation. The new tool for Water Transportation joins the Road Transportation tool, and contains permitting, reporting, recordkeeping and other requirements pertaining to emissions control and waste disposal for both on-shore facilities and vessels operating in US waters.
Alternative Fuels – State Regulations. A new tool is now available to help guide you through the most recent information on what states are doing to encourage the availability and use of alternative fuels. This easy-to-use tool contains information of particular interest to transportation, selected from an extensive database of state and local regulations and incentives managed by the Department of Energy. Starting with a summary table covering all 50 states (plus Federal rules and programs), you can scan the table for items of interest (with the aid of supplementary text boxes), select pages listing all of the items for each state, or link to the DoE database for more information. You can also find a page of comparison tables listing different states' approaches to selected topics.

If you have any comments on what is currently posted on the site or how it is posted, or if you would like to see additional topics covered here, please let us know.
Bill Chenevert, Administrative Director, wchenevert@ncms.org
George Cushnie, Technical Director, geoc@caiweb.com
TERC NEWS
Tuesday, October 22, 2013
EPA Honors Freight Industry Leaders for Environmental Achievements / EPA SmartWay Program Has Saved 65 Million Barrels of Oil since 2004 - EPA is honoring 55 companies as industry leaders in supply chain environmental and energy efficiency with its 2013 SmartWay Excellence Awards. These awards go to companies that have demonstrated outstanding achievements in reducing carbon pollution and other harmful emissions as they move goods across the U.S. more efficiently. (full text)
Friday, July 26, 2013
EPA Reduces Regulatory Burden for Industrial Facilities Using Solvent Wipes The U.S. Environmental Protection Agency (EPA) modified the hazardous waste management regulations under the Resource Conservation and Recovery Act (RCRA) to conditionally exclude solvent-contaminated wipes from hazardous waste regulations provided that businesses clean or dispose of them properly. -- (full text)
Oct. 9, 2012
Emissions Standards for Reciprocating Internal Combustion Engines and Stationary Internal Combustion Engines (Draft) EPA is reopening the public comment period for the proposed amendments to the National Emission Standards for Hazardous Air Pollutants for Stationary Reciprocating Internal Combustion Engines to solicit comment on specific issues raised during the initial public comment period regarding existing engines on offshore vessels. Comments must be received on or before 2 November 2012. POC is Ms. Melanie King, Energy Strategies Group, Sector Policies and Programs Division (D243-01), EPA, Research Triangle Park, NC 27711; Tel: 919-541-2469; fax: 919-541-5450; email: king.melanie@epa.gov, (Federal Register; 3 October 2012 [Proposed Rules], pages 60341-60343).
June 27, 2012
EPA Releases Guidance on Fuel Availability Provisions for Ships Operating Off the Coast of North America The U.S. Environmental Protection Agency released interim guidance for ship owners and operators clarifying how the U.S. government will implement fuel availability provisions when ships are unable to obtain fuel that meets standards protecting against sulfur pollution along the coast. More ...
May 30, 2012
Diesel soot pollution in railyard air isn't solid waste, says federal court A federal judge has dismissed efforts by environmental groups to hold rail yard companies responsible for pollution under the law known as the Resource Conservation and Recovery Act. More ...
April 12, 2012
Northeast Diesel Collaborative Honors Groups for Reducing Air Pollution (New York, N.Y. – April 12, 2012) The Northeast Diesel Collaborative – a partnership between the U.S. Environmental Protection Agency, state agencies, and private and nonprofit groups – today recognized four organizations for their outstanding leadership and efforts in reducing diesel emissions. The collaborative honored several agencies and organizations from Massachusetts, New Jersey, New York and Vermont as part of its second annual Northeast Diesel Collaborative Breathe Easy Leadership Awards Program. More ...
Supported by