Compliance Summary

Compliance Summary Tool

Transportation Modes

Service Functions

Regulations

All Topics

Please note: This summary is provided to help you understand the regulations. Consult the references provided for links to the full text of the regulations.
---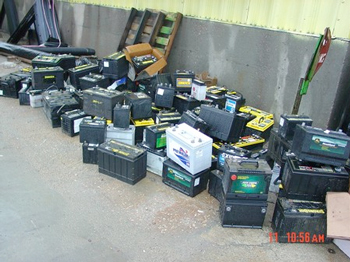 Batteries
This page is concerned with spent batteries, including lead-acid vehicle and railroad signal batteries, as well as other types of industrial batteries that have hazardous characteristics. For links to information on smaller batteries, such as those used in electronic devices, see the TERC topic page on Universal Waste.
---
Who is covered by the regulations?
Any facility that collects or disposes of batteries. To encourage recycling, many batteries that would otherwise be classified as hazardous wastes can be handled as universal wastes, with somewhat less stringent requirements. Specific regulations can vary from state to state.
What is the purpose of the regulations?
Lead-acid batteries contain a highly toxic metal (lead), and corrosive sulfuric acid. Batteries that stay in the recycling loop are valuable resources that have been successfully recycled for decades. Batteries that find their way into landfills or waste dumps are potentially dangerous, and are significant pollution sources. The regulations are intended to make the batteries easy to recycle, and to discourage improper disposal with fines and other penalties.
Universal Waste Rule (40 CFR Part 273). Due to their characteristics, spent lead-acid and certain other batteries (e.g., nickel-cadmium, nickel iron, and carbonaire railroad signal batteries) would be classified as hazardous wastes, but special rules have been developed to make it easier to recycle them. Batteries and several other common waste items (e.g., florescent bulbs containing mercury), have been grouped into a regulatory classification called "universal waste". The federal standards for universal waste describe the rules for handling batteries for recycling. Many states have adopted the federal rules, but some variations exist from one state to another.
If a facility accumulates more than 5000 kg (11,000 lb) of universal waste at any point during a given year, it is required to register as a "large quantity handler of universal wastes (LQHUW)". An LQHUW is required to obtain an EPA registration number and to provide process and contact information. A heavy-duty vehicle battery can weigh 50 - 80 pounds or more, so a facility accumulating several dozen batteries at a time could cross the threshold and become an LQHUW. Facilities accumulating smaller amounts do not have to register, but do have to comply with the rules for small quantity handlers of universal waste (SQHUWs).
Federal hazardous waste management regulations draw a sharp distinction between facilities that are permitted to add items and materials to the waste stream ("generators") and those who take the waste from there (treatment, storage, and disposal facilities, or "TSDFs"). TSDFs are regulated much more strictly than generators. In practice, it was found that under certain circumstances, allowing generators to carry out a few simple processes makes it easier to recycle, or to more conveniently manage, certain kinds of wastes. But it became necessary to spell out in detail what processes would be allowed.
For batteries, the federal standards for universal waste management specify the processes that may be carried out by universal waste handlers (both large and small quantity). In brief (consult 40 CFR 273, or the EPA summary page, for the exact wording):
If a battery is leaking, put it in a container that won't leak
Universal waste handlers are allowed to:

sort and pack intact batteries for shipment
discharge the batteries (run down the charge through a suitable load so they won't spark if the terminals are shorted)
conversely, recharge them if they are going to be used again
extract the intact batteries if they are contained in other products, and disassemble the batteries into smaller intact modules or cells
remove the electrolyte
Note that if the electrolyte is removed, the handler is required to determine if it is itself a hazardous waste (since it would no longer be covered under the universal waste regulations), and to manage it accordingly.
Batteries or containers must be marked with one of the following:
"Universal Waste -- Battery(ies)"
"Waste Battery(ies)"
"Used Battery(ies)"
The following table lists resources provided by state environmental agencies and other groups that contain state-specific information on managing spent lead-acid batteries.
| | |
| --- | --- |
| State | |
| Alabama | Rules for lead-acid battery recycling in Alabama can be found in the ADEM Admin. Code 335-14-7-.07, pages 7-5 through 7-10. |
| Alaska | No state-specific regulatory information located. |
| Arizona | Facilities can register to be approved battery collection sites by completing a Battery Collection/Recycling Facility Authorization Application |
| Arkansas | Rules for lead-acid battery recycling in Arkansas can be found in Regulation 23 (Hazardous Waste Management), pages 266-3 through 4. |
| California | California's regulations are summarized in a fact sheet, Management of Spent Lead-Acid Batteries |
| Colorado | A Compliance Bulletin from the Colorado Department of Public Health and Environment summarizes the rules for lead-acid and other battery types. |
| Connecticut | Connecticut battery recycling rules are summarized in a fact sheet from the CT Department of Environmental Protection. |
| Delaware | Delaware rules are summarized in a publication from DNREC covering waste management practices at salvage yards (Chapter 2, page 20). |
| Florida | From Florida regulations covering lead-acid batteries: "Lead-acid batteries also may not be disposed of in any waste-to-energy facility. To encourage proper collection and recycling, all persons who sell lead-acid batteries at retail shall accept used lead-acid batteries as trade-ins for new lead-acid batteries." A fee is assessed for batteries purchased without a trade-in. |
| Georgia | A fact sheet on managing used lead-acid batteries in Georgia is provided by the Georgia Environmental Compliance Assistance Program. |
| Hawaii | The Hawaii Department of Health provides a fact sheet on Used Lead Acid Battery Management in Hawaii. |
| Idaho | The Idaho Department of Environmental Quality provides a list of recyclers in the state that will accept lead-acid batteries. |
| Illinois | Owners or operators of facilities that collect or store spent lead-acid batteries can choose to handle the waste according to provisions in section 726.180 of the Illinois Administrative Code (Title 35), or as Universal Wastes under section 733.102. |
| Indiana | A fact sheet issued by the Indiana Department of Environmental Management (IDEM) on March 15, 2011 provides information on proposed changes to the rules governing temporary storage and management of spent lead acid batteries. |
| Iowa | Lead-acid batteries are not considered Universal Waste in Iowa, but are managed under their own regulations. |
| Kansas | No information found. |
| Kentucky | No information found. |
| Louisiana | The Louisiana Department of Environmental Quality provides a recycling directory listing companies in Louisiana that accept batteries. |
| Maine | Rules for recycling batteries in Maine can be found in 38:1604. |
| Maryland | The organization "mdrecycles.org" provides a list of recyclers in Maryland that accept batteries. |
| Massachusetts | No information found. |
| Michigan | Guide for Salvage Yard Owners contains state requirements for managing used batteries. |
| Minnesota | See statute 115A.90 for rules governing used batteries. |
| Mississippi | The Mississippi Department of Environmental Quality provides a battery FAQ page |
| Missouri | |
| Montana | |
| Nebraska | Lead acid batteries are regulated under Nebraska's Universal Waste Regulations. |
| Nevada | No state-specific regulatory information located. |
| New Hampshire | The New Hampshire Department of Environmental Services provides a fact sheet summarizing the rules and recommended practices for handling used batteries in New Hampshire. |
| New Jersey | Many New Jersey counties have been collecting household batteries for recycling and proper disposal since the early 1990s. Due to regulatory changes and less hazardous battery compositions, collection practices may change.  This page provides an area for ANJHHWC to track issues, resources and discussions related to the changes in dry-cell battery management that occurred at the beginning of 2010. |
| New Mexico | No information found. |
| New York | Department of Environmental Conservation: What you need to know about lead acid battery recycling. |
| North Carolina | North Carolina regulations require that retailers accept used batteries for recycling when new batteries are purchased. |
| North Dakota | No state-specific regulatory information located. |
| Ohio | Disposal of lead acid batteries in solid or hazardous waste landfills became illegal in Ohio in 2008. |
| Oklahoma | Oklahoma Department of Environmental Quality rules covering management of used batteries. |
| Oregon | No state-specific regulatory information located. |
| Pennsylvania | The Pennsylvania Department of Environmental Protection provides an information summarizing state regulations for lead acid battery recycling. |
| Rhode Island | Intact, non-leaking lead acid batteries can be handled under Rhode Island's universal waste rules. |
| South Carolina | The South Carolina Department of Health and Environmental Control provides a convenient publication containing the waste management rules for lead acid batteries. |
| South Dakota | No state-specific regulatory information located. The South Dakota Department of Environment and Natural Resources provides a list of battery recyclers in the state. |
| Tennessee | No information found. |
| Texas | Texas lead-acid battery disposal requirements are briefly summarized on page 6 of an environmental guide for Texas automotive repair shops provided by the Texas Commission on Environmental Quality. |
| Utah | Disposal limitations for lead-acid batteries in Utah are found in Title 19, Chapter 6, Section 602 of the Utah Code |
| Vermont | The Vermont Department of Environmental Conservation provides a fact sheet with a summary of state rules and a list of recommended best practices. |
| Virginia | Lead-acid batteries may be handled as universal wastes in Virginia, as indicated in an information page on universal waste management provided by the Virginia Department of Environmental Quality. |
| Washington | An information page from the Washington Department of Ecology provides a summary of the rules, with links to several pages with related information. |
| West Virginia | West Virginia's lead acid battery rule can be accessed on line through the WV Secretary of State's office. |
| Wisconsin | Fact sheet provides information on used lead acid battery management. |
| Wyoming | No information found. |
Streamlined Lead Acid Batteries Standards (40 CFR Part 266, Subpart G). Spent lead-acid batteries being reclaimed may alternatively be managed under 40 CFR 266, Subject G. This rule only applies to spent lead-acid batteries. It does not apply to any other types of batteries that can otherwise be recycled under the Universal Waste Rule. The streamlined lead acid battery standards generally exempt persons who generate, transport, or collect spent lead-acid batteries destined for reclamation from the majority of hazardous waste regulations. Persons who store spent lead-acid batteries before reclaiming them must notify EPA and obtain a RCRA permit for that storage. Lead-acid batteries that are regenerated rather than reclaimed remain exempt from the hazardous waste regulations throughout the management cycle. Most states have adopted by reference the streamlined lead acid battery standards.
If a vehicle battery is being replaced, the easiest option is to exchange the old battery at the same location where the new one is purchased. Retailers in most areas are required to accept old batteries for recycling. Some retailers will accept them even if the battery is not being replaced. Lists including companies in addition to retailers that will accept batteries for recycling may be found for some locations in the table in the previous section.
Recycling is generally the only sensible option for spent lead-acid batteries. A large fraction -- 96%, according to one recent study -- of the lead in lead-acid batteries is recycled, which probably makes battery lead the most recycled material in commerce today.
The situation will become more complicated over the next few years, as new battery types find wider applications in vehicles. Lead-acid batteries store enough power to start an engine, but do not store enough power per pound to be used as a component of the power train. Lithium-ion batteries, rapidly decreasing in cost as they are incorporated into passenger vehicles, may start finding uses in some freight applications. If so, vehicle maintenance facilities will have to manage spent lithium-ion batteries, at least initially without the benefit of the recycling infrastructure that has been established for lead-acid.
Text of the federal universal waste regulation (40 CFR 273)
Battery Recyclers of America. Battery Recyclers of America is equipped to recycle every type of battery, including lead-acid batteries.