Please note: This summary is provided to help you understand the regulations. Consult the references provided for links to the full text of the regulations.
---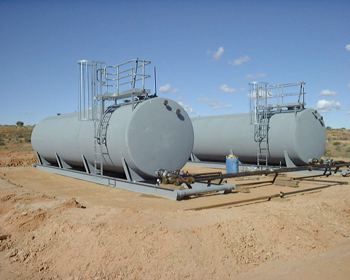 Diesel Fuel Storage Tanks
This section provides information on environmental regulations related to diesel fuel storage tanks. Summaries of the requirements are presented below with links to more detailed discussions of specific rules. The topics include:
---
Underground Storage Tanks (USTs)
Underground storage tanks pose a significant threat to groundwater, which is the source of drinking water for many U.S. citizens. The underground storage tank (UST) regulations are preemptive in nature. Both at the federal and State levels, the regulations are designed to prevent releases by closely monitoring petroleum and chemical storage and by imposing deadlines for removal of older USTs before they fail.
In most cases, UST regulations are enforced at the state level. The regulations require that facilities with storage capacity greater than 110 gallons:
register their UST systems
meet requirements for leak detection, spill overflow, corrosion protection, and
have insurance coverage.

When USTs are no longer in use, facilities must implement closure according to specific rules. For more information, go to USTs.
Aboveground Storage Tanks (ASTs)
Aboveground storage tanks (ASTs) pose a somewhat different environmental threat from underground storage tanks (USTs). Although aboveground spills can impact groundwater, releases from ASTs pose a more immediate threat to surface water bodies such as streams and rivers. As such, ASTs are regulated differently from USTs. For USTs, slow, undetected leaks are a major concern. For ASTs, the regulations focus on preventing, controlling and cleaning up accidental spills.
The applicable regulations are promulgated under the oil pollution prevention section of the Clean Water Act regulations (40 CFR 112), also referred to as the Spill Prevention, Control and Counter Measures or SPCC rule. This regulation does not actually use the term "aboveground storage tank." Instead the term "bulk storage container" is used and is defined as "any container used to store oil."
It is important to note that a fuel storage tank with 10% or more of its capacity below ground (including piping) is actually defined as underground storage tank (UST) and is regulated under federal and state UST rules. Go to UST section.

The SPCC rule applies to facilities with aboveground oil storage capacity greater than 1,320 gallons (containers with a storage capacity less than 55 U.S. gallons do not count toward the total) that could reasonably be expected to discharge oil to U.S. navigable waters or adjoining shorelines. Applicable facilities must develop and implement a spill prevention and control plan. This plan must be well thought out and prepared in accordance with good engineering practices. It must document the location of storage vessels, types of containment, dangers associated with a major release of material from the tanks, types of emergency equipment available at each site, and procedures for notifying the appropriate regulatory and emergency agencies. Go to SPCC rule.

Some ASTs used for diesel fuel storage may need to meet additional state or local regulatory requirements that safeguard human health and the environment. For example, many states require that aboveground diesel storage tanks be registered.

Additional rules that apply to aboveground storage tanks include state and local fire codes, which usually have some mix of construction, installation, operation and maintenance requirements that are intended to prevent fires and other hazards that can come from mismanaged or substandard ASTs. In most states, these codes are adopted from National Fire Protection Association (NFPA). NFPA standards can be ordered on-line (see More Resources).

Fueling operations - stormwater permits
Facility operators should note that a non-retail fueling operation is considered vehicle maintenance, and therefore requires a NPDES stormwater permit. See the TERC topic page on Stormwater for additional information.

Any leaks or environmental contamination from diesel fuel stored in the storage tanks must be reported to the EPA as well as state regulators and local authorities. Depending upon the nature of the contamination, cleanup may be necessary and regular reports from the tank's owners detailing the clean-up process may be required. The EPA may also impose a fine for environmental damage. For more information, see Reporting Spills.

Emergency Planning and Community Right-to-Know Act (EPCRA)
Diesel fuel is classified as a "hazardous chemical" under the OSHA Hazard Communication Standard. As a result, facilities that store 10,000 lbs. (about 1,370 gal.) of diesel fuel must meet Emergency Planning and Community Right-to-Know Act (EPCRA) reporting requirements.

For any hazardous chemical used or stored in the workplace, facilities must maintain a material safety data sheet (MSDS), and submit the MSDSs (or a list of the chemicals) to their State Emergency Response Commission (SERC), Local Emergency Planning Committee (LEPC) and local fire department. Facilities will provide either a Tier I or Tier II form (Tier II Submit Software). Most States require the Tier II form. Some states have specific requirements in addition to the federal Tier II requirements. Many accept Tier2 Submit, an electronic form. Find Tier II reporting procedures and requirements for your state.

Most states have developed regulations and/or published guidelines for petroleum tanks. Use the Storage Tank State Resource Locator to find more information.
NFPA 30: Flammable and Combustible Liquids Code. Adopted by most states and enforceable under OSHA, NFPA 30: Flammable and Combustible Liquids Code presents the latest and most complete guidance on the safe storage, handling, and use of these volatile substances. It provides the criteria you need to design facilities for better protection, comply with sprinkler requirements, and use safe operating practices.
NFPA 30A: Code for Motor Fuel Dispensing Facilities and Repair Garages. Service stations dispensing flammable fuels can avoid serious hazards only by adhering to specialized guidelines. NFPA 30A: Code for Motor Fuel Dispensing Facilities and Repair Garages provides rules for piping, fuel dispensing systems, service stations inside buildings, and the full range of operations.