Please note: This summary is provided to help you understand the regulations. Consult the references provided for links to the full text of the regulations.
---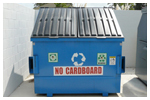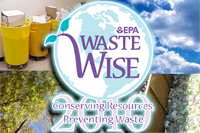 WasteWise is a voluntary EPA program through which businesses eliminate costly solid waste, benefiting their bottom line and the environment.
Dumpsters
Available in a range of colors and volumes up to 20 cubic yards, the dumpster is a necessary, but costly beast to lease and a potential threat to your otherwise good environmental compliance record.
This section focuses on ways to reduce dumpster pickup fees and help sort out what can and cannot legally go into a dumpster. Also covered are best management practices that reduce stormwater contamination and illicit use by rodents and other locals.
---
Illegal Stuff
Although solid waste rules vary from state to state and even between jurisdictions within the same state, there are some items that simply cannot go into any trash dumpster, anywhere, anytime. These include:
In addition to the above list, many states and local jurisdictions now strongly enforce recycling laws that don't allow useful materials to be disposed of, such as:
Wood pallets
Tires
Newspaper
Cardboard
Cans
Construction debris
Scrap metal, including drained oil filters.
Reducing Costs
Dumpster prices vary from about $100 to $500 per pickup, depending on their size and where you are located. The main reasons for the location variability is the difference in the costs associated with disposing of the waste in the local landfill and the taxes that are levied by some municipalities.
There are two lines of defense against filling up the dumpster too quickly:
Waste prevention
Recycling.
Waste prevention, also known as source reduction, means using less material to get a job done. Waste prevention methods help create less waste in the first place—before recycling. If businesses take a good look at what's inside the dumpster, they are likely to think of ways to reduce waste first through waste prevention, thereby decreasing purchasing costs and the amount of material that must be managed for recycling.

Waste prevention examples include:
Work with your suppliers to cut down on packaging materials for the products you purchase and/or implement a packaging return program.
Switch to reusable transport containers.
Reuse corrugated boxes internally and/or use incoming packaging materials for outgoing shipments.
Purchase or lease durable shop towels that can be laundered and reused.
Reduce office paper use by eliminating file copies and going digital whenever possible.
Advertise surplus and reusable items through a commercial materials exchange.
Create a compost pile for landscape cuttings.
Recycling in most areas of the U.S. is the law. To effectively recycle, a business must make a concerted effort. This includes:
Identifying all recyclable materials
Segregating recyclables into containers for pickup
Educating employees
Monitoring progress
Enforcing the rules
Best Management Practices
The following Best Management Practices(BMP) are aimed at minimizing misuse of dumpsters, contamination of stormwater, litter and the presence of noxious pests.
Select the right size of dumpster for your needs and be certain it has a good fitting cover or lid and plugged drain holes.
Locate the dumpster on a bermed, paved surface that prevents stormwater from washing away leaks, spills or litter.
Do not locate the dumpster where non-employees have access to it. If necessary, lock the dumpster on weekends/evenings to prevent illicit use.
Keep the lid of the dumpster closed (may require posting a sign).
Post signs that clearly indicate which wastes cannot go into the dumpster. Put a contact name and phone number on the sign for people to call with questions about dumpster use.
Do not put liquids in the dumpster. They should go down the sanitary sewer if permitted.
Train employees on proper use of the dumpster and explain the importance of preventing stormwater contamination.
Inspect the area frequently on an established schedule.
Clean the area around the dumpster by sweeping rather than flooding it with water.
Schedule dumpster pickups frequently enough to prevent overfilling.