Please note: This summary is provided to help you understand the regulations. Consult the references provided for links to the full text of the regulations.
---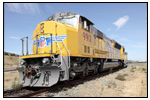 Engine Emissions (Locomotives)

This page covers locomotive emissions regulations that affect railroads, locomotive manufacturers, and remanufacturers.
Related topic: Engine Emissions (locomotive idling).
Who is covered by the regulations?
With some limited exceptions, the regulations apply to all diesel line-haul, passenger, and switch locomotives that operate within the U.S. Including newly manufactured locomotives and remanufactured locomotivesthat were originally manufactured after 1972.
(Electric locomotives, historic steam- powered locomotives, and locomotives originally manufactured before 1973 do not contribute significantly to the emissions problem, and thus, are not included in this rulemaking. In general, locomotives are remanufactured every five to fifteen years.)

What is the purpose of the regulations?
Locomotive diesel engines contribute significantly to air pollution in many of the nation's cities and towns. Of particular concern are particulate matter (PM) and nitrogen oxides (Nox), a key precursor to ozone and secondary PM formation.
The locomotive emission standards are expected to cut PM emissions from these engines by as much as 90 percent and Nox emissions by as much as 80 percent when fully implemented.
This rule is an important component of EPA's ongoing National Clean Diesel Campaign (NCDC).
EPA has established emission standards for oxides of nitrogen (Nox), hydrocarbons (HC), carbon monoxide (CO), particulate matter (PM) and smoke for newly manufactured and remanufactured locomotives. For specific locomotive emission standards, see Locomotive Exhaust Emissions Standards.

The standards, which are codified at 40 CFR Part 1033, include several sets of emission standards with applicability dependent on the date a locomotive is first manufactured:
Tier 0—Standards. These first set of standards (effective 2000) apply to locomotives and locomotive engines originally manufactured from 1973 through 2001, any time and they are remanufactured.

Tier 1—Standards. Apply to locomotives and locomotive engines originally manufactured from 2002 through 2004. These locomotives and locomotive engines are required to meet the Tier 1 standards at the time of the manufacture and each subsequent remanufacture.

Tier 2—Standards. Apply to locomotives and locomotive engines originally manufactured in 2005 and later. Tier 2 locomotives and locomotive engines are required to meet the applicable standards at the time of original manufacture and each subsequent remanufacture.

Tier 3—Standards. Apply to newly-built (2012 - 2014) and remanufactured locomotives and reflect the application of currently available engine technologies to reduce PM and NOx emissions. The rule also creates new idle reduction requirements for new and remanufactured locomotives and establishes a new generation of clean switch locomotives, based on clean nonroad diesel engine standards.

Tier 4—Standards. Apply to locomotives manufactured in 2015 and later. These longer-term standards for newly-built and remanufactured locomotives are expected to require the use of exhaust gas aftertreatment technologies, such as particulate filters for PM control, and urea-SCR for NOx emission control.
To enable catalytic aftertreatment methods at the Tier 4 stage, EPA regulated (as part of the nonroad Tier 4 rule) the availability of low sulfur diesel fuel for locomotive engines. Sulfur limit of 500 ppm is effective as of June 2007, sulfur limit of 15 ppm from June 2012.
EPA has been working with the nation's major railroads to implement voluntary efforts to reduce idle emissions beyond the mandated reductions. All Class I railroads have joined the SmartWay Transport Program including: CSX Transportation, Norfolk Southern, Canadian National Railway, BNSF Railway Co., Canadian Pacific Railway, Kansas City Southern Railway, and Union Pacific Railroad Co. As part of their SmartWay commitment, each railroad has submitted action plans describing the steps they are taking to significantly reduce carbon dioxide, Nox, and PM emissions, and to conserve considerable amounts of diesel fuel. Every Class I railroad action plan includes efforts to reduce idling through a variety of technologies and strategies, including automatic engine stop-start systems, auxiliary power units or diesel-driven heating systems, electrical shorepower connections, and company idle-shutdown policies.

EPA Finalizes More Stringent Emissions Standards for Locomotives and Marine Compression-Ignition Engines. EPA fact sheet.
EPA's Office of Transportation and Air Quality (OTAQ). Rule and related documents.
2019 SmartWay Rail Carrier Partner Tool: Quick Start Guide (EPA 420-B-19-015). The Rail Carrier Tool Technical Documentation explains more about the methodological structure and technical aspects of the Tool and the data entry process; this guide will focus primarily on the essentials for completing the Tool.