Please note: This summary is provided to help you understand the regulations. Consult the references provided for links to the full text of the regulations.
---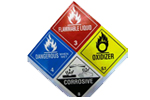 Placarding
This section of TERC covers placarding for hazardous materials including requirements for hazardous waste shipments.
This topic page covers placarding requirements for transport by motor vehicles and rail cars. When transporting dangerous goods by ship, the applicable rules are the International Maritime Dangerous Goods (IMDG) Code.
---
Who is covered by the regulations?
Anyone who offers for transport or transports any materials that are regulated as "hazardous materials," including hazardous waste, must comply with the applicable placarding requirements.
What is the purpose of the regulations?
A hazardous materials placard is a diamond-shaped sign that must be affixed to any motor vehicle or rail car that carries hazardous materials. Ordinarily, it has a four digit number in the middle of the placard and a one digit number at the bottom that shows the hazard class and specific material being carried.
Placards play a critical role in communicating the presence of hazardous materials to:
emergency responders in the event of a hazardous materials incident such as a spill,
transport workers who need to identify hazmat shipments so that they can be handled appropriately, and
regulatory enforcement personnel who ensure that hazardous materials shipments are transported in a safe manner consistent with the regulations.
Regulations covering hazardous material (HM) placarding are promulgated by:
The U.S. Department of Transportation (DOT) under the Hazardous Materials Transportation Act (HMTA). These rules specify that hazardous material (HM) carriers must be registered with DOT and they must follow regulations covering among other requirements hazardous material classification, packaging, labeling, and placarding.

The U.S. Environmental Protection Agency (EPA) under the Resource Conservation and Recovery Act (RCRA). RCRA rules only cover one type of hazardous material, namely hazardous waste. RCRA regulations are most likely to be applicable to transporters when transporting hazardous waste from its generation site (e.g., manufacturing facility) to a treatment and disposal facility. To avoid conflicts, EPA's hazardous waste transportation rules, including placarding, incorporate DOT hazardous material requirements by reference.
Hazardous Materials Transportation Act (HMTA). The Hazardous Material Transportation Act (HMTA) was published in 1975. Its primary objective is to provide adequate protection against the risks to life and property inherent in the transportation of hazardous material in commerce. HMTA regulations are codified at 49 CFR 100-185.
General placarding requirements are contained in 49 CFR Part 172. Each person who offers for transportation any hazardous materials subject to the HM regulations must comply with the applicable placarding requirements.
Each bulk packaging, freight container, unit load device, transport vehicle, or rail car containing any quantity of hazardous materials must be placarded on each side and each end with the placards specified in Tables 1 and 2 of 49 CFR 172.504.
Placards are a diamond shaped hazardous material information source for emergency responders, transportation employees, regulators and others. They are approximately 10.8 inches (273 mm) by 10.8 inches (273 mm) and sit on the point at a 45 degree angle.
A placard provides the viewer with a variety of information through several different methods. First is the color of the placard:
Red indicates flammable
Green indicates nonflammable
Yellow indicates oxidizer
Blue indicates dangerous when wet
White indicates inhalation hazard and poison
Black and white indicates corrosive (acid and caustic)
Red and white indicates flammable solid or spontaneously combustible, depending on the color pattern on the placard
White and yellow indicates radiation or radioactive
Orange indicates explosives
White with black stripes indicates miscellaneous hazardous materials
A second information indicator is the number in the bottom corner of the diamond. This number refers to the hazard classes as used internationally and by the United States DOT. There are nine classes for hazardous materials:
Class 1 explosives
Class 2 gases (flammable, nonflammable, inhalation hazard/poison, or oxygen)
Class 3 liquids that burn (flammable and combustible liquids, based on their flashpoint)
Class 4 flammable solids, spontaneously combustible, or dangerous when wet materials
Class 5 oxidizers and organic peroxides
Class 6 poison/toxic solids and liquids, infectious materials
Class 7 radioactive (three sub classes)
Class 8 corrosives (acids and bases) and
Class 9 miscellaneous
A third indicator is the symbol in the upper corner of the diamond. A variety of symbols are used to indicate combustion, radiation, oxidizers, compressed gas, destruction of materials and skin by corrosives, an explosion, or skull and cross bones to indicate poisons.
The fourth item on a placard is the four digit United Nations (UN) number used for the hazardous material contained in the container. There are hundreds of four digit numbers used, from 1001 (acetylene) to 9279 (hydrogen, absorbed in metal hydride). The number in some cases is specific to a chemical and in other cases reflects a variety of hazardous materials. (For example, 1017 is only used for chlorine, 1005 has five chemical listings, 1993 is used for eight chemical listings and 2810 is used for 36 chemical listings.)
Commonly seen placard four digit numbers are:
1005 anhydrous ammonia
1017 chlorine
1075 liquefied petroleum gas
1090 acetone
1170 ethanol
1203 gasoline
1789 hydrochloric acid
1824 sodium hydroxide (liquid caustic soda)
1830 sulfuric acid
1987 denatured alcohol (ethanol)
2014 hydrogen peroxide
2187 carbon dioxide
2448 molten sulfur
Resource Conservation and Recovery Act (RCRA). Regulations implementing the Resource Conservation and Recovery Act (RCRA) include labeling, marking, and placarding requirements for hazardous waste containers. To avoid establishing duplicative or conflicting hazardous material transport requirements, the RCRA regulations incorporate the U.S. Department of Transportation (DOT) Hazardous Materials Regulations (HMR) contained in Title 49 of the Code of Federal Regulations (CFR) by reference. These rules specify:
A generator who is accumulating hazardous waste on-site in containers must ensure the containers are properly marked (40 CFR 262.34). Before transporting hazardous waste off-site, or offering hazardous waste for off-site transport, a hazardous waste generator must label (40 CFR 262.31) and mark (40 CFR 262.32) each package of hazardous waste, and must placard the waste or offer placards to the initial transporter (40 CFR 262.33). The RCRA regulations reference the DOT HMR in 49 CFR Part 172 for hazardous waste labeling, marking, and placarding requirements. Placard requirement follow the same rules and conventions as hazardous materials, discussed above.

A transporter must to comply with the DOT HMR in 49 CFR Parts 171 to 179 while engaged in the off-site transport of hazardous waste (40 CFR 263.10). For most transporters, this means ensuring that the generator provided labels, markings, and placards remain with the hazardous waste containers during transport.
It is the motor vehicle driver's (or conductor in the case of rail) responsibility to ensure that the vehicle is placarded correctly before getting underway. If you are a driver, this means that you must be aware of DOT placarding requirements and have firsthand knowledge of the types of hazardous materials you are hauling before accepting a load. If you have any questions, the time to ask is before leaving the site and not when you are underway.
If you have questions concerning hazardous material or hazardous waste placarding, call the Pipeline and Hazardous Materials Safety Administration (PHMSA) at 202-366-4488.
How to Comply with Federal Hazardous Materials Regulations. This document, produced by the Federal Motor Carrier Safety Administration, provides an overview of the requirements for transporting hazardous materials by highway.